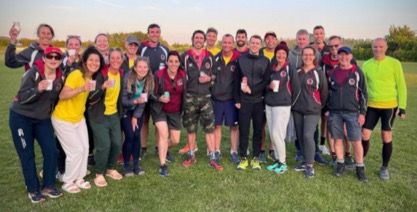 School Years 10 and below - you can register you interest with our enquiries email address.
Seniors and Vets - Please register you interest with our enquiries email address and we will get back to you about joining us at Tuesday training to try-out the club for a couple of sessions before committing yourself.
If you are interested in endurance running we would expect you to be able to run for about an hour. If this is not you at the moment then try one of our Beginner/Improver groups - click on the Training tab for more details.
Information for new members Download here
Membership Application Form Download here. Please give completed forms to Tim Hicks, the Membership Secretary, or e-mail him at [email protected]. Once your membership application form has been received you will be sent an invoice for payment of membership fees. Please do not include any payment with your membership application.
Note: In completing the application form you will need to declare that you have read the Code of Conduct for Parents/Carers and the Junior Disciplinary Policy & Conduct Rules or the Senior Athletes' Code of Conduct, which are all available on our Documents, Policies and Procedures page.
| Category | Joining Fee / Club Vest * | Membership Fee ** | England Athletics Fee *** | Total |
| --- | --- | --- | --- | --- |
Notes:
* The joining fee is a one-off charge, which is the cost of a club vest that you will need for competitions.
** The membership fee for any person joining the club from 1st October onwards will be half the full membership fee (i.e. Senior fee for 6 months = £25, junior fee for 6 months = £20). Any person joining the club from 1st January 2023 onwards will pay the full fee which will cover the first 15 months membership (i.e. membership until 31st March 2024).
*** The England Athletics fee is paid directly to that association and entitles you to take part in most athletics events at a reduced rate. We strongly urge you to pay this affiliation fee. For children who will not reach their 11th birthday by 31st March 2023, there is no England Athletics Affiliation fee to pay for the period to 31st March 2023. Otherwise for all Juniors it is compulsory from the age of 11 upwards.
****Associate Membership is available to 'social' members who do not take part in any club training or compete as a club member OR to anyone who is a second claim athlete and is registered as first claim with another club.
Please be aware that your details will be shared with EA even if you do not pay an EA fee.
"When you become a member of or renew your membership with Haywards Heath Harriers you will automatically be registered as a member of England Athletics. We will provide England Athletics with your personal data which they will use to enable access to an online portal for you (called myAthletics). England Athletics will contact you to invite you to sign into and update your MyAthletics portal (which, amongst other things, allows you to set and amend your privacy settings). If you have any questions about the continuing privacy of your personal data when it is shared with England Athletics, please [email protected]<mailto:[email protected]>."
Election to the club takes place at the first committee meeting following application.
We encourage all members to pay club fees using the payment link in the invoice you will receive. However, should anyone not wish to do this, payment can be made via online bank transfer to the club account - please contact the membership secretary for details.
NOTE: Do not send any payment with your application form – you will be sent an invoice.