News
Haywards Heath Harriers remember Chris Smith
(November 06, 2020)
---
Just one more rep to the top of the tank tracks; a tribute to Chris Smith.
(words by Andy Hind / Haywards Heath Harriers – photos courtesy of Rob Watts and Carys Hind)
Picture this, a dark, fresh, autumnal night in the wonderful countryside at the base of the South Downs Way. Four of us had just completed another chatty 6-mile headtorch run starting and ending at the Half Moon pub in Plumpton. Settling down at our table in front of a roaring fire, our server asks, "Have you boys been out for a jog?". We look up from the menu, chuckling that our group, which just happens to contain one of the most accomplished runners in the UK, are being referred to as 'joggers'. But before we say anything, Chris pipes up, 'Aye, just a little one, now, what are we drinking lads?'. Good memories.
Memories are precious and many of us have our own of Chris Smith. But, perhaps strangely, they are not foremost of his blisteringly quick times or immense running prowess. They are more personal and speak of a man who could light up a room as easily as a hill rep session. Those who knew Chris tell of his warmth, humility and sense of humour but he equally made a lasting impact on new people with his down to earth, easy going nature.
One unexpected benefit of an otherwise miserable 2020, was Chris being able to regularly train with the Haywards Heath Harriers and participate in our lockdown Blackcap Handicap and mini SDW Relay team events. Despite being saddled with an impossibly hard handicap and a far from 'elite' relay team, Chris gave his all, literally burying himself in the task without concern or complaint and inspiring many of us to put our best foot forward. How many PBs that could be attributed to the 'Chris Smith factor' may never be known! Speaking of which, Chris's 5K course record of 15m46s at Haywards Heath's notorious Clair Park parkrun, is going to take something very special to be challenged. This is where some of us first met Chris; he had just moved to Haywards Heath and came to parkrun along with his family. His time blew us away!
In his social running, Chris always seemed happiest climbing the steepest hill, chatting in good company and looking forward to the opportunity for a welcome beer at the end of a session. Those who spent time with him on the annual Haywards Heath / Lewes Christmas 20 mile 'Ales & Trails' pub run or the Friday night 'Lights & Pints' headtorch runs will know, better than most, just how much these social interactions meant to Chris.
Chris's death affects us all. Whether you knew him well or had only just met him, the loss of the opportunity to get to know him better is one of the cruellest and most heart-breaking parts of this. We have lost someone special and very dear to us. Chris was a part of our running family; we will miss and forever remember him.
So, the next time you find yourself up on the South Downs, battling the perpetual wind and driving rain, maybe dig that little bit deeper and say to yourself, just one more rep to the top of the tank tracks… for Chris.
Chris Smith winning Haywards Heath 10 miler (May 2018). Photo by Carys Hind
Chris Smith Ales and Trails Run. Photo by Rob Watts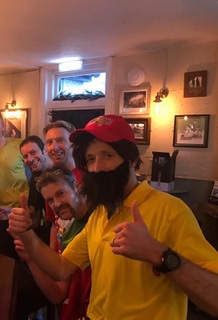 Chris Smith (front) Haywards Heath / Lewes Ales and Trails Run. Photo by Rob Watts