News
HHHSSVR the 10k Doubleback - Results/Final report UPDATE
(February 19, 2021)
---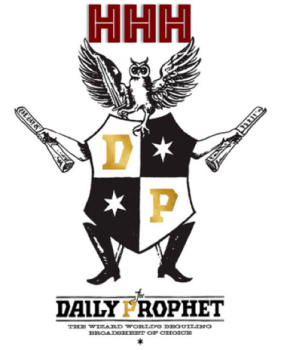 Breaking News.... 🚨🚨🚨🚨🚨🚨🚨

Scandal rips through The Daily Prophet newsroom as Rita Skeeter is escorted from the premises with cardboard box in hand!! 😱

Editor Barnabus Cuffe was quoted as saying, 'Skeeter misreported the third place individual Age Grade place simply because she cannot add up. The paper apologises to Mr. Boyer and Mrs Amer for any emotional trauma caused. We congratulate Mr Boyer and Mrs Amer on excellent third and fourth places with the equivalent of a second between them. We have made a charity donation to the paper's pension plan. All other results stand and activity on the illegal Hong Kong betting markets has subsided'.

Ms Skeeter has not responded to our requests for comment.

End.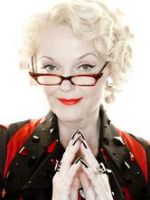 Rita Skeeter
Chief Sports Reporter
Extraordinaire – The Daily Prophet
'I get the story behind the story. You bet I do sweetie'.
Well if we thought Saturday was busy my dears, what a fluster occurred today! 'Wowzers', as my fellow journo Kuenssberg would say! The Beetroot Army was out in force smashing The Doubleback from dawn until dusk.
Affairs kicked off in Helsinki where Tim Hicks skated his way around a 10k Doubleback equivalent. Snow does not hold back a Beetroot Membership Secretary – oh no! Back in positively balmy Sussex, England, racers bashed out some phenomenal times. James Collins leading the male charge with a reality-challenging 36:22, and Emma Singer pushing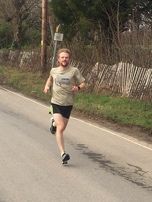 the boundaries for the Lady Beetroots with a stunning 43:23. In addition, it would be remiss of me not to mention in dispatches Mullen Minor, Mr Cook, our Kim, and Shiv The Machine for some phenomenal first past the post 10k times. Well done the Speedies!!
And so to individual Age Grade Results. Well, what a to-do. In first spot, Lins Blain – take a bow – 75.24%. In second spot, James Moffat – take a bow – 75.01% and in a bronze position, Shiv Amer – take a bow – 74.37%. These people fly!! Brooms were tuned! Hats were tied on with string. Whoosh! Congratulations all the age grade winners. (What!!?? was the Chair DSQ for using a Broom?...Ed.)
A couple of Spot Prizes! Ooooo! For her unstinting regard for running form whatever pace she runs at – Liz Earley – take a bow! And for his combined achievement of a very rapid time and his tremendous self-control by only running the course once during the whole window – Greg Hilton – take a bow.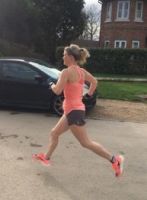 And now the one you have all been waiting for! The Team Results. Based on the total Age Grade points achieved by the top 6 runners in each team, there isn't much between them. Oh readers this is a close call! In sixth place, Pinot Noir! A very nice team, with lots of supportive cheering up and down Copyhold Lane, lots of photo journalism, and outriding for other teams – thank you Pinot Noirs. Fifth place goes to Shiraz! Our Helsinki friend may have suffered too much from the snow, or was it the vodka? Fourth place, goes to Chardonnay who came within a gnat's crotchet of a bronze. I suspect the Chardonnays will be the team to beat over 10 miles though. In Bronze position, Team Malbec, who proved to be well, middling. I think by far the best looking team though. Probably. In silver, we have Team Tempranillo, whoop whoop! An excellent showing from a team that has the endurance skills to challenge in the overall Spring Series. Good luck Team Tempranillo!
Finally the Winners. Team Albarhino you are Champions of The Doubleback 10K!! With 5 runners over 70% Age Grade it was difficult for any other team to get a foothold in the competition. Well done the Albies, a powerful display, and good luck with the remaining legs of the Spring Series.
Two things to keep in mind. Firstly, this was the first race of a series of three. We plan on holding the second leg, The Troublesome Ten (Miler) from 25-28 March inclusive. Our existing teams will go head-to-head once more to push each other to even greater heights. The final leg, The Harriers Spring Half, will take place on 22-25 April. We will be letting you know more on those over the coming weeks.
Also, Beetroots, don't forget that the Strava Art Challenge runs until the end of February. Entries so far have been great to see. The Judging Panel would love to see more. Entry window closes on Sunday 28th Feb.
So, it only remains for me to say, thank you to each and every one of you Beetroots who took on the challenge of a Delbridge beast of a 10K course. It was so good to see the fun that you had and the chat around the course was great. Not a little WhatsApp traffic either…..
Rest Athletes, rest with gin!
Rita
Queen of the Quills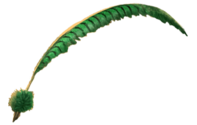 PS Serious point racers. Thanks for playing.

20 February 2020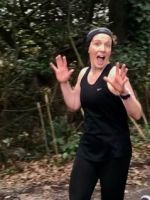 Woof! Such action today that I am quite needing a sit down and a glass of Malbec – by far my favourite tipple dear reader. You Beetroots quite wore me out as I had to rush around and catch you all running hither and thither! Photo ops were tough given you were all moving like the wind so 'blurred' is really quite a positive look in today's report. Only Sarah made the most of her close-up – what a pro!
The action started early, and with my skin regimen taking the hour it does in the mornings anyone starting on the course before 08:30 just wasn't going to feature strongly in my report. I needn't have worried really as Mullen Minor trotted out the same old, same old, with crown-stealing normality. Remember though Muggles, it's all about the age grade!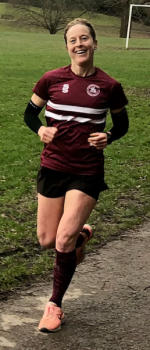 I am glad to report Mrs Amer decided to 'pick herself up, dust herself down, and start all over again!' Despite the Race Referee offering a mathematical solution to yesterday's shenanigans, Shiv just ran it again. An awesome show of downright Shivvery I think you will agree.
Not to be outdone, Mr Bicknell decided that once wasn't enough either, and proceeded to run a half marathon at a very respectable pace indeed. Hats off to you Carl.
Ms. Treharne took a tumble but is OK and convalescing in readiness for another crack at the course tomorrow. There is a theme here. You Beetroots will not be beaten!
A late afternoon flash of activity saw Messrs. Sykes, Cousins and Boyer push the boundaries of possibility. Three wizards showing us all how it is done.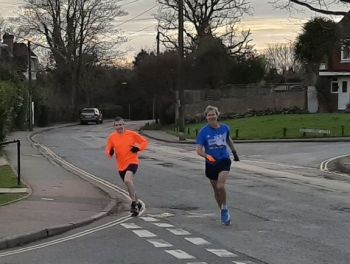 In a land far, far away, James Moffat took the local option for him and ran his 10K on the well-established Newick 10k route that many of you have cried on. James smashed it as you would expect. Young Ryan Armstrong smashed a remote course in Burgess Hill too. Beetroots take over Sussex!
Meanwhile the little House Elf jogged around behind you all with a very deceptive pace indeed………
So plenty of racing still to be done Beetroots. Make sure those brooms are tuned to perfection. Another bunch of early risers tomorrow no doubt!
Run Athletes, run like the wind!
Rita
Queen of the Quills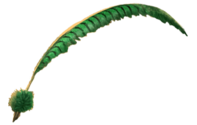 PS Serious point racers. Watch your feet at the turn of the bottom of Copyhold Lane – its slippy!
PPS Care is needed at the pelican crossing. Be careful.
PPS. Some great support from Team Pinot Noir along Copyhold Lane. Be aware racers that it could turn into sledging depending on competitive position of said team, so please do report any malfeasance at all to the Politburo….
19 Februray 6pm

Athletic prowess is a rare beast is it not? Days of strapping young men and elegant fledgling ladies parading across Whiteman's Green of a Tuesday evening seem like a memory from a bygone age. The mass starts of huge races in every nook and cranny of Sussex, tension etched across the faces of skimpily vested runners anxiously stroking their watches as they waited for the moment of gunfire, were so voluptuously evocative. Oh my, dear reader, oh my.
And so to the start line of The Doubleback on a dank, dreich, seemingly Edinburgh-like day. I watch A Hind, Amer, Lovejoy, Muggridge (no reader not muggle, Muggridge!), Miller, Hilton, Mrs Robinson, Madam Secretary, and Dumbrell relive those halcyon days. They all flew off the start line like the Hogwarts Express, all steam and puffing noises, legs pumping like pistons, vests a-fluttering in the chilly easterly.
Of course, progress varied. I shall spare you the gory details. Actually, no I shan't!
Hind flew and proved the troll of a course can be tamed in under 40 minutes, heading up the overnight leaderboard of absolute times going into the highly competitive weekend. Hilton nailed a run for Team Chardonnay. Miller, Muggridge, Lovejoy, and Mrs Robinson bashed out some super quick times gathering some well-earned age grade points for their respective teams. Dumbrell, as always, did a Johnson and over-promised and under-delivered. He made it round, without ripping anything this time. Progress of sorts. Team Malbec have three safely back in the sheds with their quickies revving their brooms!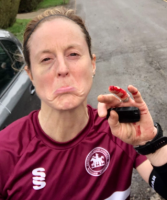 And so to poor, poor Siobhan. I can only write a story of woe, with the happy ending that she is still in one piece, battered, bloodied, and bruised but never bowed. Rumour has it that she was sabotaged - Slytherin Team Malbec certainly lived up to their reputation of doing "whatever it takes". Taken down to the mat half way up Copyhold Shiv rallied to a very strong finish but her watch did not. Thank Heaven for the Spring Series, and watch out for a blazing 10-miler from Mrs Amer next month! We had navigational issues with Madam Secretary missing out Haywards Road, (a Malbec Discombobulate charm??), don't do that people, and the GPS network failing for Mrs Robinson (house elves fixing that for us). Lessons to be learned there athletes, no? No romping off course!
With Thompson and Franks bashing out very quick times on Thursday perhaps the club elders have not created the troll of a course that they had believed. We shall see shall we not racers?
Run Athletes, run like the wind!
Rita
Queen of the Quills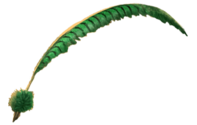 PS Serious point racers. Watch your feet at the turn of the bottom of Copyhold Lane – its slippy!
PPS Care is needed at the pelican crossing. Be careful.
PPS. Some great support from Team Pinot Noir along Copyhold Lane. Be aware racers that it could turn into sledging depending on competitive position of said team, so please do report any malfeasance at all to the Politburo….