News
HHH SSVR Half Marathon Final Report
(April 25, 2021)
---
HHH Spring Series Half Marathon - Final Report
Take heed on every windy day
To tie a rock upon your shoe,
So that you do not blow away
And whiffle off into the blue.
Babara Vance 2020
T'was blowy up yonder hill on the final day of our Virtual Racing Spring Series. Clouds! Although clearly not that blowy as Matt Cook bashed out a 01:31:09!! I had the pleasure of being overtaken by Matt in the early part of our races and catching the occasional glimpse of him in the distance, first one hill away, then two….. back under Blackcap you can see 4 hills ahead, I couldn't see Matt at all by that stage!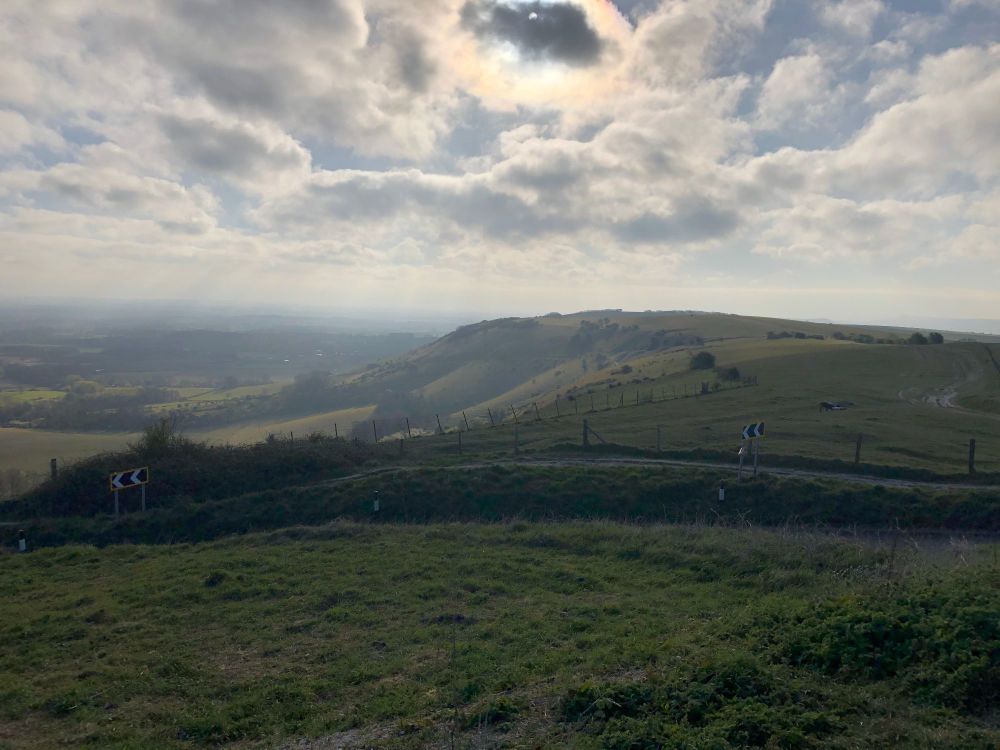 Carys Hind smashed out her first trail half marathon and despite the odd unplanned forward roll it sounds like she thoroughly enjoyed it! (And teaching Sam Ridley a thing or two about colour coordination if you ask me!)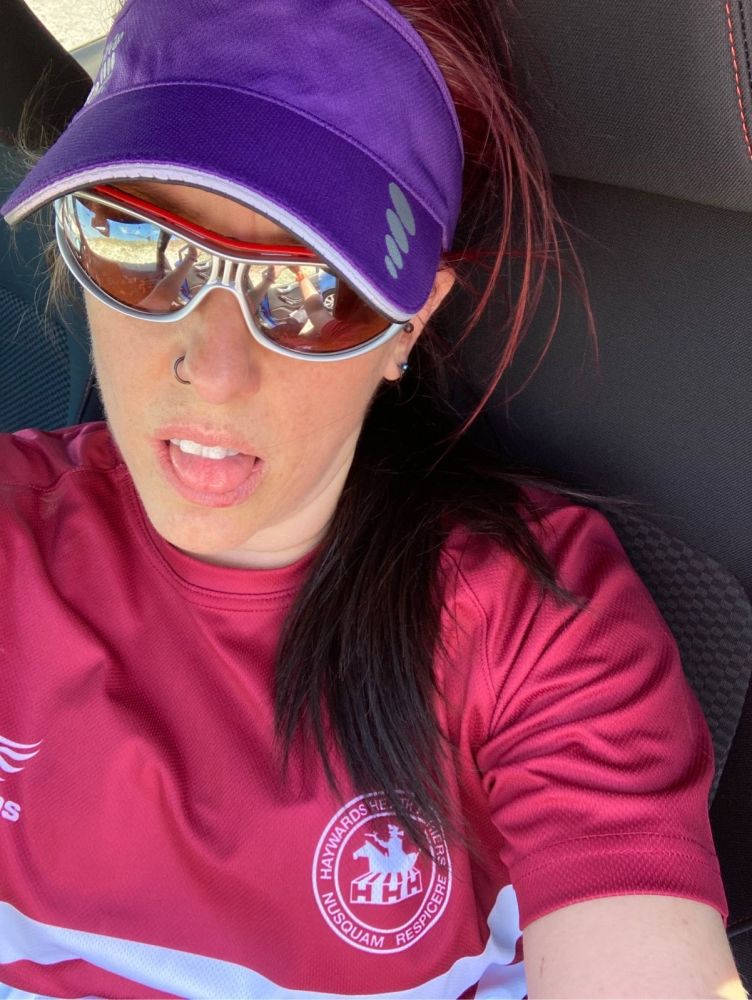 Mr Co-Chair donned the bike and loud haler to assist - well done MCC. Yet another example of Beetroot teamwork - my heart is full.
Marion of course breezed her way to the top of the Age Grade leaderboard by sneaking out early, and smashing a 2:17:17.
Meanwhile, in the far off place that is Goodwood, Beetroots smashed out some awesome performances. James Collins ran 1:15:48 and Marcus ran 1:23:45 for the half, and Tim Stannard obliterated his full marathon PB running 3:20:59! Awesome performances all. Lord Ref has applied some tricky obfuscating algorithms to bring some semblance of elevation (& surface & gates) to these times for use in the Series. Nick Skov and Emma Singer ran some stonking half marathons on alternative courses which again Lord Ref has cranked.
So, who is crowned Chief Beetroot Half Marathoner after all that? Well we had three runners over the golden 70% AG this time, which reflects the savage elevation of the course. In third place, is Shiv 'The Machine' Shivster, an awesome runner and an even more awesome friend. In second place, smashing out a quite blistering time for that course, is James ' The Mountain Goat' Moffat. In first place and taking home the much coveted 'warm and fuzzy feeling' is our co-chair and all round good egg, Marion Hemsworth!! Whoop whoop!
In the team competition, it has been a strategic tour de force by Team Albarinho. Go out hard and fast and overwhelm the opposition with fire and fury! BOSH! Matt's time today was just icing on the cake for them. Congratulations to the Team - James, Shiv, Paul, Kim, Matt, Kath, Catherine, Nick and the injured Olivia. Your team have been on fire throughout the Spring Series and you should be collectively proud of the way that you supported each other to smash it.
In second place is the awesome Team Tempranillo! Liz Earley epitomises team spirit supporting her team mate Sarah to get round yesterday in a really quick time, both delivering for their team -excellent run leader skills from Liz and real fortitude from Sarah! Top age grade efforts from Lins and Marion yet again and Tempranillo were sucking on diesel fellas.
Team Shiraz used some judicious transfer policy to achieve a solid if unspectacular third place. Emma was a star and squeezed in a mixed terrain half marathon this afternoon to ensure the team had six scorers. All quickies in Shiraz though!
James' efforts in Goodwood catapulted Chardonnay up the charts to fourth, along with Tim's immense marathon time. Karen led the way as the first out of the sheds on Friday morning and her team have followed. Well done Team Chardonnay.
Meanwhile in a leapfrogged fifth place are the Malbies. Shorn of key talent through illness (Graham is on the mend) we did our very best to hold onto fourth place. Ultimately a forlorn cause but we can at least say we went down fighting.
Team Pinot, a nice team. Equally shorn of talent over this race window, the Pinots kept smiles on their faces and happiness in their hearts, and you can't ask for more than that.
The HHH Virtual Racing Committee hope that you have enjoyed the Spring Series. We hope it has provided a bit of racing interest during the fallow period that was lockdown. We think the 13 VR races we have put on have offered a chance for some competitive running, and most importantly kept up the contact between us all. As Carl's recent note suggested we hope that 'real' racing is beginning to poke its head out of the compost (gardening reference there) and that we can run alongside each other as team mates very soon.
Thanks all for playing. See you on a Tuesday night IN PERSON!
Dumbers
HHH Spring Series Half Marathon - Super Saturday Report
Judging by the faces I saw on runners at the 16k mark today, you were all joyous about the tectonic quirk that is the Weald Anticline, and that eons of colloidal plucking had smoothed your racing track to a small hillock! Smiles all round and palpable joy in the air today! You have all been such great photographers that I am spoilt for choice for the sunrise shot - I shall take the earliest and thank James 'Mountain Goat' Moffat for this beauty:
20 or so Beetroots out there soaking up the sunshine today and successes and wins for every one of them. Caroline M-K smashed out her first half marathon with the help of Coach Barry. A great bit of teamwork. Well done both!!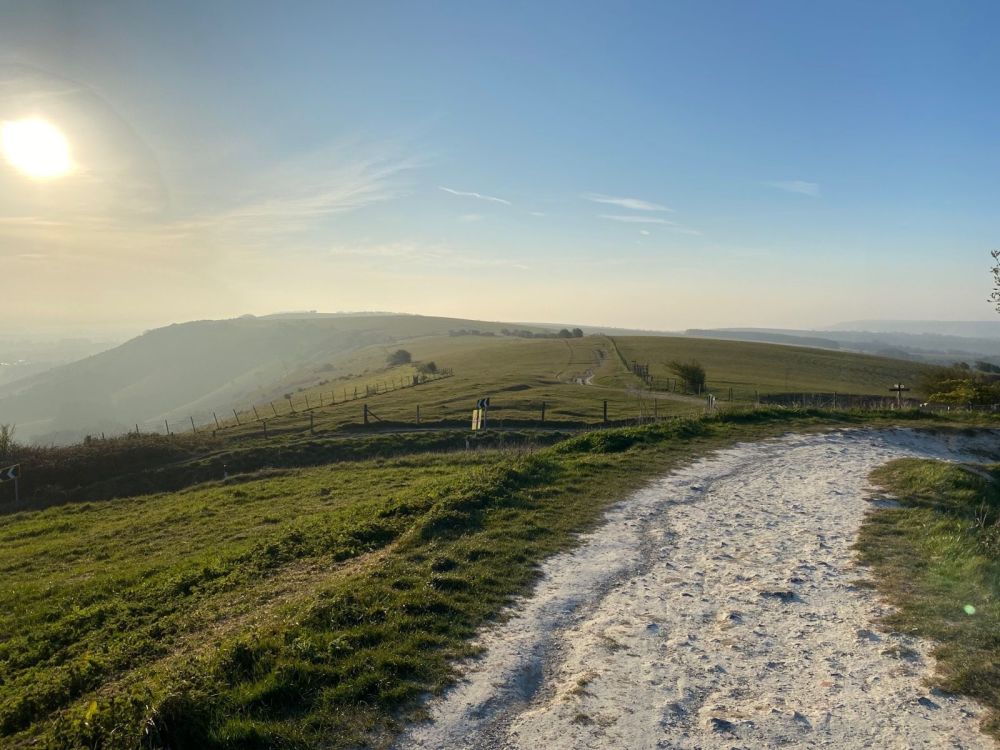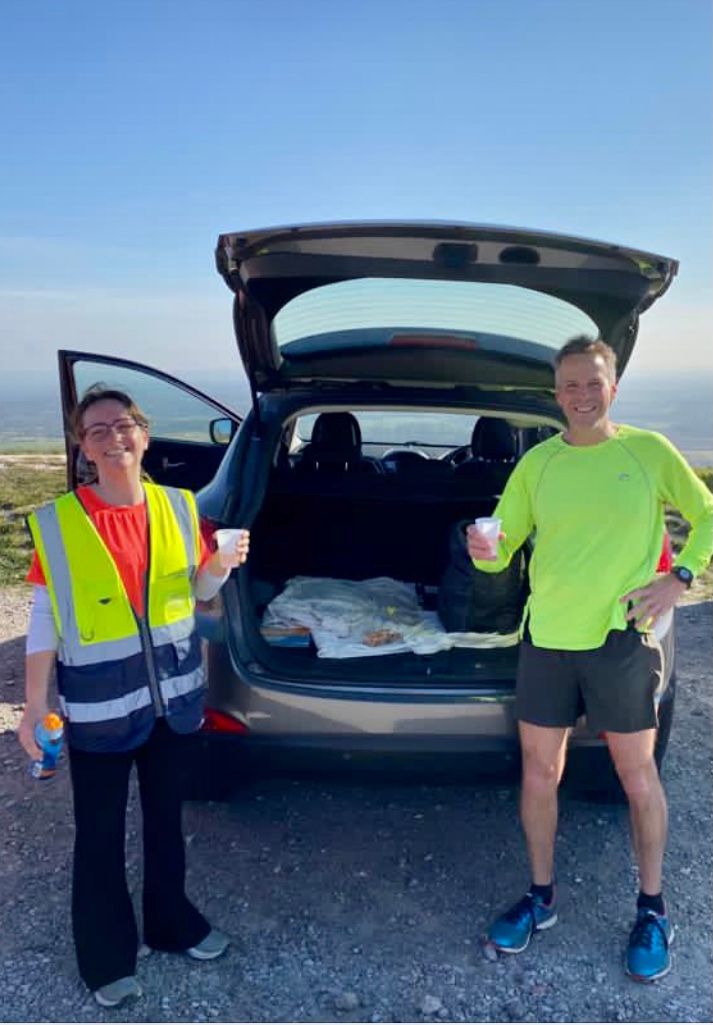 Lots of groups out this morning. Here are Take That c.2004 just after Robbie and Jason left: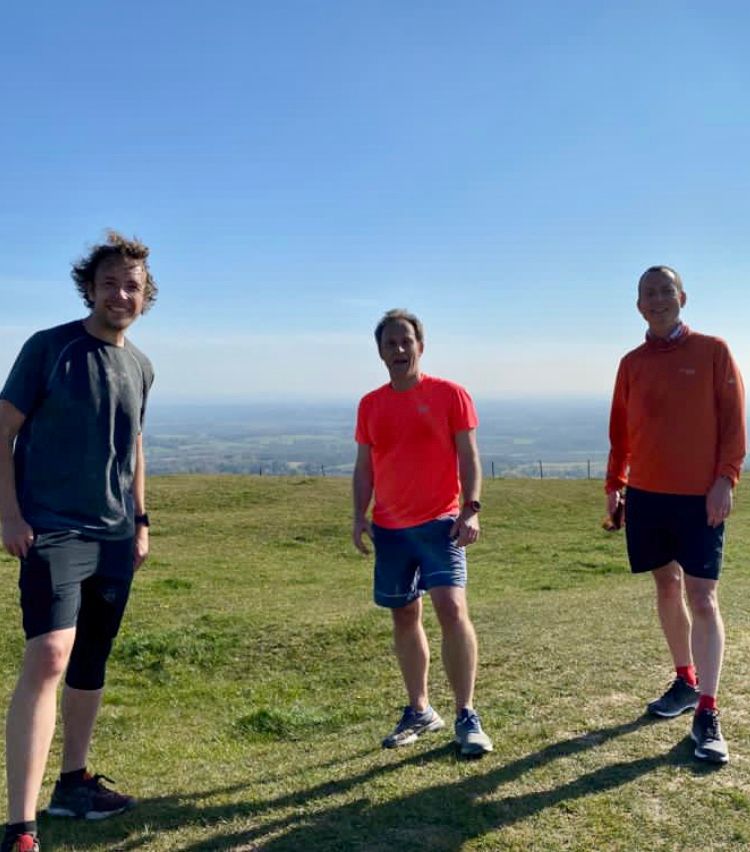 And here are Take That today! How they have changed over the years!! :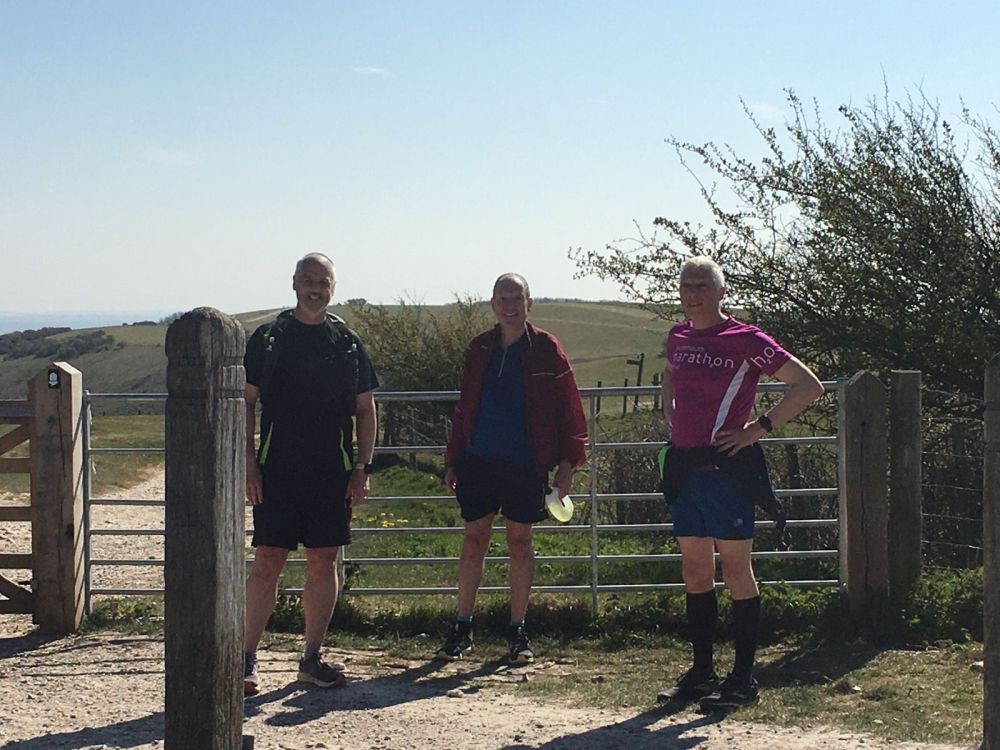 So, onto the results themselves my dears. Lots of change at the top. Mullen Minor has taken the speedy lead at the top with a 1:29:05 and casually ran home to Burgess Hill!! James 'Mountain Goat' Moffat took the lead at the top of the Age Grade table by a whisker from Shiv. Lins got mighty close again but only 2 70%+ AG-ers as we head into our final racing day.
Team standings are mixed. Team Tempranillo is in much better shape with some very good AG scores coming in today. Pinot have woken up and have 5 scorers on the board. Team Shiraz maintain the calm laid back approach that Tim Hicks would espouse I am sure. All to play for and no-one is out of it!
So tomorrow's weather looks good to firm with the easterly wind maintaining a gentle encouragement on the return leg. Sunshine is forecast and general feedback from today's runners was that it all got a bit warm as the race went on so do please think about layering up, the three stages of which are so beautifully modelled above by Gary, Little Mark, and Howard.
Please continue to look after yourselves and each other. It was really good to see so many of you deciding to run in pairs or groups today. I also saw lots of water bottles and some very nice day-glo high-vis tops. I could see Sarah's pink day-glo outfit from about a mile and half away - they really do work well! If you decide to run on your own please do take a phone along with you having let your significant other know that you are on the course.
Happy running Beetroots! Revel in the results of all that colloidal plucking!!
Dumbers
HHH Spring Series Half Marathon - Second Day End-Of-Day Report
Another day of South Downs racing, another glorious sunrise, this time captured by one of our new members, Nick Fellows. A stunning shot Nick!
I don't know about you but I always like to know where I am running, and just as importantly but perhaps less obviously, what I am running on. It turns out that the South Downs are such an awesome running track because Mother Nature has been working on them for around 60 million years. I think we all agree that between the Cretaceous Period and today, she has got it very right indeed. A few million years of baking the microscopic skeletons of plankton into a tough white rock, and then folding it during the Late Mesozoic period to produce the Weald Anticline, a whopping great dome of rock sticking up in the air. She then spent 40-odd million years whacking the dome with sea, wind, rain and sand, eroding trillions of tonnes of material to eventually expose all the layers of different rock laid down in the Cretaceous seas, including our glorious South Downs!. A bit like this: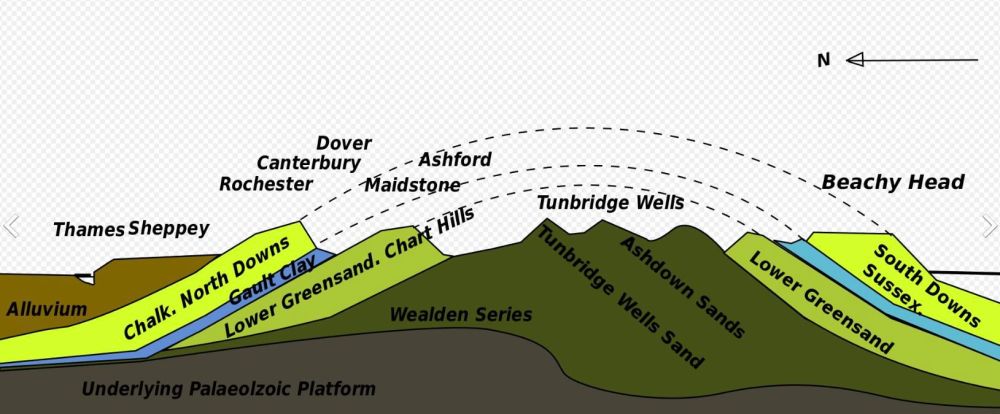 And now you get to run on that you lucky so-and-so's!! If you are Ben Duncan, you run on it very fast! Ben and many others smashed great half marathons on Mother Nature's ups-and-downs today. Well done everyone who kept the running, chat and photo journalism going !
A couple of outstanding performances amongst a whole bunch of greatness. Shiv Amer becomes our first runner over the golden 70% AG mark. On a course with 400m+ of elevation that is some going - well done Shiv and her kind sherpa, Paul 'the Legend' Cousins! Also, we must congratulate speedy Ben Duncan for proving that this course is in fact a sub 1:30 course and that hills really are your friends.
As for the team competition, its wide open! Team Albie's strategy is clearly go early and overpower the opposition with 5 scorers already in the changing rooms. Team Pinot are clearly a weekend team - nice!
This reporter is not aware of any parking tickets at the Beacon yet so a win there. No-one has got lost, although some decided to run some extra (who can blame them), and no reports of angry cows, so all to play for as we head into Super Saturday!
A further safety reminder. Please take care of yourself and those that you see. Run together if you can and ensure that you have the right kit - water, layers, phone, and that your better halves know that you are on the course. I would recommend some sun block on your tender parts whatever time of day you venture out on the course. The thin air up there gives you a suntan worthy of Val D'Isere (does anyone remember ski-ing?). On the technical front, please take heed of El Presidente's advice - start your watch, get a GPS signal, and then start your run at the car park before the gate. Go West (where the skies are blue) !
Enjoy running on 60 million years worth of work and drink it in.
Dumbers
HHH Spring Series Half Marathon - First Day End-Of-Day Report
It's a topsy-turvy Spring thats for sure! It's almost May and we still have daffodils in full bloom, frosts are still deep, and there is not a sign of a potato leaf above ground! Crazy Mother Nature! However, look at this beauty!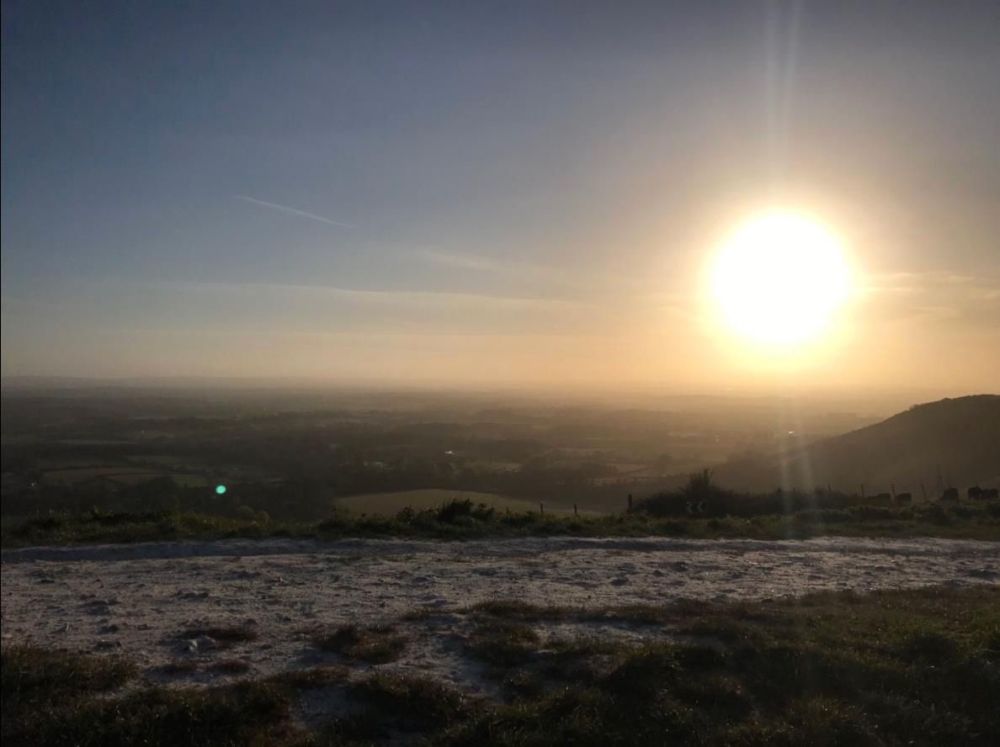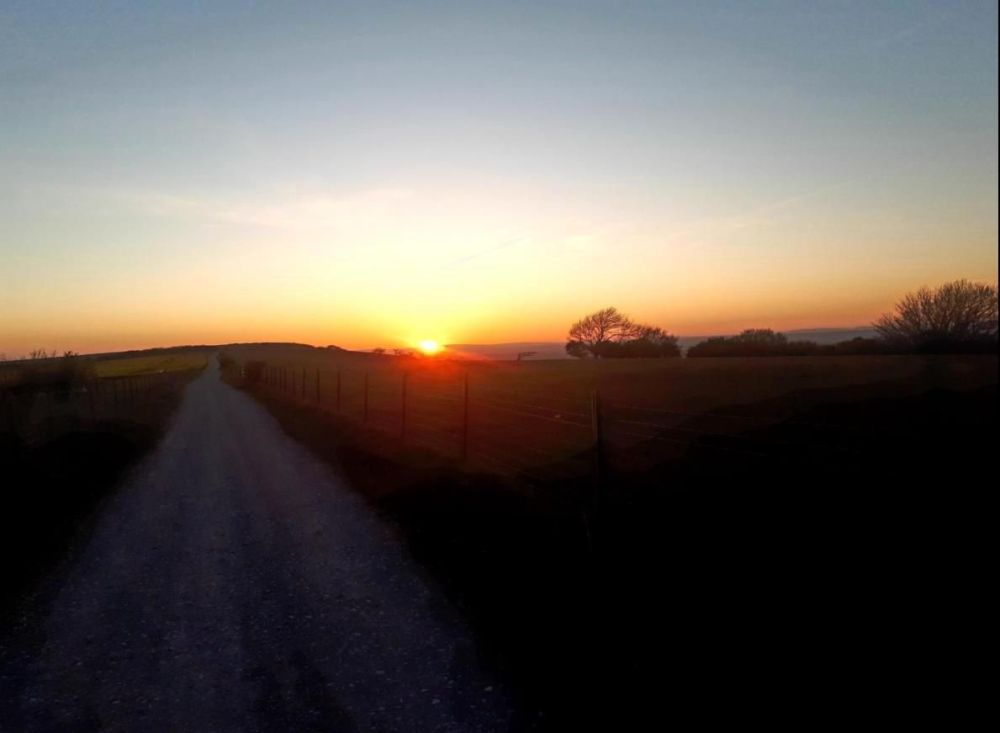 Well done Mother Nature and well done Karen and Kath for catching the sunrise and sunset - what a beautiful place.
Five early bird Beetroots up on the course today with Karen topping the Age Grade League by a smidge from Mr. Co-Chair. A first half marathon for Karen and one with a lot of speed about it. Robbo also dug in and delivered for her team - great stuff! Sim Wishlade putting in a great shift for Team Shiraz with a two flake 99! Good on you Sim! Madam Secretary smashed out a late sub-2 hour race time just making it home before the Witching Hour and catching and sharing the sunset with all of us.
It is absolutely glorious up on the course based on the feedback from the racers out today, and the forecast currently suggests racing conditions will be similar for the rest of the window. Just for clarity the race window closes at 8pm Sunday evening.
There are so many unanswered questions for us all to muse over as the results come flying in over this weekend. Will Madam Secretary kick chalk dust in El Presidente's eyes (again)? Will Team Pinot finally shrug off the 'nice' image and smash out some big performances? Will Lins finally close down the Age Grade gap to Madam Chair? Who will end up at the Amex Stadium? Who will gatecrash the wedding at the bar? Who will get a parking ticket at the Beacon? So many conundrums to be resolved between now and the next Line Of Duty episode. Mother Of God, Harriers really are sucking on diesel fella !!
Just remains for me to remind everyone of the need to stay focussed on your personal safety, and in these socially distanced times the safety of those around you. Look out for one another, if you can, organise to run together, and ensure that you have the right kit available for a long trail run - water, gels, layers. Stay safe and enjoy some of the best views on this good Earth.
Dumbers