News
A Tribute to Ian Cooper - Haywards Heath Harriers Remember
(April 19, 2022)
---
Ian Cooper remembered by Haywards Heath Harriers
We were saddened to learn on Tuesday, March 30th, 2021, of the death of Ian Cooper. Ian was a member of Haywards Heath Harriers for over 40 years and, together with other club members from those decades, played a leading role in the development of Haywards Heath Harriers in Sussex athletics. In very recent years, local runners will remember Ian's characteristic starting instructions for the junior and senior Lindfield Village Fun Runs. More widely in Sussex, participants in the annual South Downs Way Relay appreciated Ian's expertise along with club coach David Dalziel and Richard Carter in making the first Saturday in June a memorable day for running – a philosophy for sport which perhaps provides a fitting tribute to the life of Ian Cooper.
John Gill, Honorary President, Haywards Heath Harriers writes:
Ian Cooper joined Haywards Heath Harriers in 1977, initially (with his previous experience as a sports coach) to help with the younger Harriers. But he soon formed, and began coaching, a small group of road runners. The running boom of the early 1980s coupled with the televisual appeal of a new running event – the London Marathon – led to a rapid increase in membership of this group of club runners.
Ian was hugely enthusiastic in spreading the gospel of longer distance running and was a pioneer in the club's now well-known and well-deserved place in Sussex endurance running. He ran in all the early London marathons and, not satisfied with 26.2 miles, became the first in the club to run the London to Brighton race, having by then already completed two epic races along the South Downs, the first being the 80 miles of what was then the official length of the South Downs Way and a couple of years later the full 100 miles of the extended SDW to Winchester.
Prior to joining Haywards Heath Harriers, Ian had qualified as a badminton coach, and he also played golf (with an admirably low handicap) and tennis. Hence, Ian began his running career later than most athletes, and consequently he never knew how good he might have been had he competed as a younger man. But as a veteran in the age categories V40, V50, V60 and V70, Ian won numerous county and local medals in road races around Sussex. Ian became a qualified athletics coach and continued to enthuse, encourage, cajole, and perhaps even gently bully an era of Harriers would be athletes, most of whom would in due course far exceed their original hopes of achievement.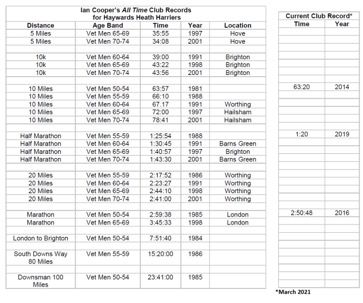 Out of his running kit, Ian took on the post of Club Chairman for three years, during which time he was active in encouraging the club's women runners to form a track and field team for the first time. As his own competitive urge abated, he became an active and greatly respected track judge around the county, and beyond. Ian enjoyed a long and successful career in Haywards Heath Harriers colours and his contribution to the development of the club, as both competitor and administrator, cannot be overstated.
Ian's commitment to training and running were combined with a successful career in London, in marketing, and a happy and fulfilled family life. Ian's athletic achievements are reflected in his numerous club records, which are tabulated above, the majority of which are the current club records.
John Gill, April 2021