News
SWL at Erith
(May 17, 2014)
---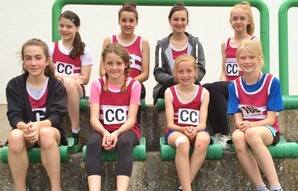 On Saturday 17th May, the Southern Womens League team competed at Erith Stadium in the first round, with the prospect of defending their Division 1 title well in their grasp. With a complete team of both junior and senior athletes and a huge task ahead of them, they did not disappoint and came away clear winners with 329 points, compared to 2nd place with 245 points, with 7 clubs competing. There is not one single performance that can be highlighted as everyone produced a great team result. However, the junior team of Kaitlyn Slater-Barnes, Katie Grant, Morgan Peacock, Sophie Hooper, Phoebe & Hattie Collins, Annabel Peters and Charlotte Donnelly recorded no less than 11 1st places between them, followed up with 8 2nd and 3rd places out of a maximum of 21 point scoring events. Their flexibility in competing in events which some of them had never competed in before, was the difference between winning and not winning.
The juniors were supported by a strong U17 Women and Senior Women team and they recorded 12 1st places and 14 2nd and 3rd places between them. The ever present Laura Penfold, Lucie Venables, Lana Shaw, Ellie Radcliffe, Abigail Hosier, Brittany Croydon-Kempster, Emma Tullett, Jenny Denyer, Michelle Holdstock, Michelle Pearce, Linda Tullett and Irene Parsley were joined by newcomer Liv Rowlands to complete the Southern Womens League team.
The main point scoring event for the club was in the various hurdle races over the 3 age groups (U15 Girls, U17 Women and Senior Women) where we scored a total of 54 points out of a possible 56.
The team are now looking forward to the next fixture on the 7th June at Wimbledon Park to push closer towards the target of retaining the Division 1 title.