A quick round up of what's happening!
A good turnout at the XC League this weekend with some impressive performances and plenty of effort in what were rather chilly conditions! Well done to all our competing athletes.
Xmas Lights Run 19 December
Group Leaders will be hosting our annual Xmas Lights Run on 19 December. This will replace normal endurance training. Lights and festive reflective gear is always a welcome! keep an eye on your group chats for details.
A big thankyou to Gemma Morgan, Rob Watts and the social team for organisaing our Xmas bash at Orange Square. It was a fantastic turnout and a really fun night. A great start to the festive season!
Cross Country Fixtures 2023/24
Tuesday Training is now at our winter locations
Our winter endurance training is now in effect so please check the WhatsApp announcements / Group Chats for details of where your session will be held.
Keep up to date with our coaches, training sessions and key dates for your diary
This weeks report is brought to you by Paul Cousins.
' For the w/c 20 November 2023
Sussex Cross Country League - Ardingly
It was good to see Haywards Heath Harriers getting into the mix at Ardingly on Saturday the eleventh of November. The Harriers have yet again become involved with Sussex Athletics by holding one of the important cross country league races in the county.
The Ardingly Showground was the latest venue for the second round of the Sussex Cross Country League.
Haywards Heath Harriers co-organised this event along with Sussex Athletics. There was a great set-up team on the day, with most duties being covered by the Harriers along with help from other Sussex clubs including Burgess Hill Runners and Crawley Athletic Club in the running of the event.
On an undulation course by the South East of England showground and the conditions "good" for cross-country running (not muddy and no puddles) which the runners made good of the re-adjusted course of the previous year.
There was lots of good cross country running going on with the best of Sussex taking part across all ages from under elevens to the veteran age groups. The Harriers also getting their best runners out with many good performances on the day.
Harriers had a super turn-out with forty-seven harriers running and a super team effort helping out with the running of the event.
For the Harriers, there were ten youngsters, nine women and twenty-eight men who took part.
Results were as follows|:
U11 girls: 34th Layla Robinson 10.39.
U11 Boys: 46th Rohan Barnes 9.16; 52nd Joe Waller 9.40; 62nd Indigo Rhodes 12.25.
U13 Girls: 11th Elsie Williams 13.05; 37th Molly-Ann Clarke 15.50; 43rd Coco Rhodes 17.03.
13 Boys: 16th Ethan Rowen 12.02; 19th Charlie Waller 12.09.
U15 Girls: 38th Emily Hilton 19.54.
Senior Women: 42nd Rachael Overton 23.01; 53rd Siobhan Amer 23.32; 68th Lindsey Blain 24.53; 82nd Sam Ridley 25.40; 100th Jacqueline Barnes 27.45; 108th Shelagh Robinson 29.28; 111th Sarah Hamilton 30.21; 117th Caroline Mackey-Khursheed 30.59; 137th Carys Hind 35.30.
Senior Men: 19th James Skinner 28.43; 29th Jamie McDowell 29.38; 31st Jamie Topping 29.41; 36th Chris Turner 29.51; 49th Ian Kenton 31.06; 50th Marcus Kimmins 31.13; 56th Ollie Fyfe 31.38; 57th Michael Priest 31.41; 64th Russ Mullen 31.59; 70th Michael Burke 32.33; 72nd Tom Sommerfelt 32.36; 73rd James Moffat 32:43; 79th Andy Hind 33.18; 84th Matt King 33.47; 97th Greg Hilton 34.34; 98th Mark Green 34.37; 104th James Bennett 34.50; 105th Tim Miller 34.50; 106th Patrick Laurence 34.56; 110th Mark McLoughlin 35.15; 118th Simeon Wishlade 35.59; 131st Chris Faulkner 38.02; 134th Simon Robinson 38.12; 137th Andy Dray 38.40; 154th Tim Hicks 40.50; 163rd Mark Sykes 42.42; 165th Ian Dumbrell 43.38; 166th James Buckeridge 44.00.
The men's A team finished fourth in Division one out of eight teams with two hundred and fourteen points, this time finishing twenty-eight two points behind their closest rivals, Lewes Athletic Club, who finished in third place.
The women's A team finished in a superb sixth place (an improvement of seven places on Goodwood) in Division Two with one hundred and sixty-four points.
The next Sussex cross country league race is at Stanmer Park (Brighton) on the second of December. Again, it would be great for the club to get as many runners (young and old) out for the next race!
West Sussex Fun Run League – Gun Powder Trot! – 05/11/23
Haywards Heath Harriers took part in the penultimate race in the West Sussex Fun Run League season for 2023. The club finished tenth out of eighteen clubs at this event.
The Harrier's results were:
10th Andy Hind 29.56; 34th Tim Miller 32.18; 35th Julian Boyer 32.20; 75th James Smyth 35.45; 103rd Eric Hepburn 37.18; 111th Richard Caddy 38.19; 115th Jayne Brewer 38.35; 130th Phil Scott 39.28; 152nd Bob Adams 40.54; 169th Mark Songi 42.42; 189th Mike Parish 45.44; 195th Sarah Hamilton 46.28; 203rd Marion Hemsworth 47.38; 240th Carys Hind 54.33; 245th Richard Bates 55.55; 254th Rupert Purchase 61.31.
West Sussex Fun Run League - Steepdown Challenge 29/10/23
At the final race of 2023 at the Steepdown Challenge at Lancing, the team finished in twelve place out of eighteen clubs.
25th Tim Miller 34.44; 35th Julian Boyer 35.45; 95th James Smyth 40.58; 119th Richard Caddy 43.06; 125th Phil Scott 43.32; 134th Mike Derrick 44.20; 174th Richard Jobling 49.21; 176th Sarah Hamilton 49.37; 181st Mike Parish 50.29; 241st Marion Hemsworth 68.51.
Get to know your Coaches and Group Run Leaders
This talented bunch of volunteers are all EA qualified coaches or Leaders in Running Fitness (LiRF's) and give their time week in week out supporting the club!
Interested in helping the club with coaching? Check out our 'Get Into Coaching' promotion
This is the area of the hub where you can find out who has similar interests and targets to you. Or just decide that you want to run with someone else over a different distance at a slower or faster pace than you usually do. You can join a group for a regular training run – to keep yourself honest to your plans – or just dip in and out as you wish!
To help you decide, we've organised this under three headings
Group Leader Offers – general training runs just cos it's fun to run with someone else, usually Thursdays and weekends, in different locations winter and summer
Target race and distance – group leaders organise training runs for specific times, races or distances.
Club Impact – coached and or led sessions targeting such things as XC, SDW or even parkrun tourism, a monthly outing to a specific parkrun event.
We'd also like to hear news of what races you're aiming for. Other Harriers might have entered too and it would be a pity not to share the experience with someone else, even if its just a lift!
So, have you entered a run you' d like to share with others here? If there's enough interest perhaps we can get one of our esteemed Group Leaders to set up a group!
The Longer Read... The Oli Farr Marathon Story
Words by Oli Farr
Our resident marathon man, Oli Farr talks about his journey and motivations to become a full member of the 100 marathon club.
On the 21st May I ran my 100th marathon earning me the Blue & Yellow vest of the 100 Marathon club. This has been on the back of an epic journey that was seeded as an idea initially to run the London marathon In a Gym in Crowborough when I was seventeen.
After a gap (due to fitness and personal challenges) the idea came to me again when I recovered my fitness in my mid-twenties and it's with this, I entered for the London Marathon's 2015 race. Also, I entered and completed my first marathon at Portsmouth in 2014 and found out that I had secured a place into London the week after and also entering the Edinburgh marathon in the same year. The next few years saw me running a few marathons each year. It was at the Andover trail marathon that I first saw someone with the 100 Marathon club vest on and this led to the thought that I could I run one hundred marathons.
The plan initially was to run the one hundred marathons before I hit forty five years old but hitting the fifty marathon mark in 2020 lead me to consider what race I wanted to be my hundredth and with this in mind, I decided on the Richmond Marathon.
I then approached the One Hundred Marathon Club in February 2022 and became an associated member (at that time I was vetted to sixty-six marathons). Having decided to go for the Richmond marathon, I made the decision to achieve my target by completing the challenge in the May 2022 Richmond race. But this would have meant needing to run thirty three marathons in three months (a near impossibility), and for this reason I embarked on my toughest year by running thirty three marathons in thirteen months to meet the target, these runs weren't enjoyable as I needed to run (for example) out and back races in winter in places like Rochester over a motorway bridge in cold and windy conditions at slower paces due to injury and energy conservation.
The last few races have been far more enjoyable as I closed in on the goal and my decision to finish in Richmond made the victory lap extra special (big thank you those who turned up to support me on the day and those who messaged me on the day and the race director and volunteers who helped to make the day even more special).
Looking back, I have learned a lot about myself and have met a lot of new people on the way, I have come to realise that there are a lot of mad runners out there who have inspired me along the way and I hope that my journey can inspire some of our club member (Haywards Heath Harriers) runners young and old to meet any challenge they set themselves.
As for the future I plan to take it a bit easier and to fall back into love with running on the trails and doing a few more park runs and Sussex Grand Prix races, I still have five marathons to complete this year and I plan to run the Manchester to Liverpool next year as well a whole bucket list of runs to keep me going for a long old time.
I hope you all have enjoyed following my story, I just need work out what the next challenge is going to be for me.😊
Do you have a story to tell? Get in touch to be featured in Longer Reads.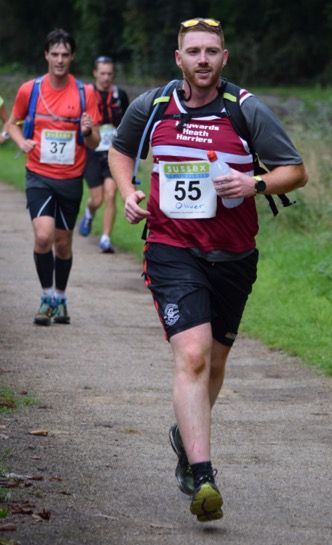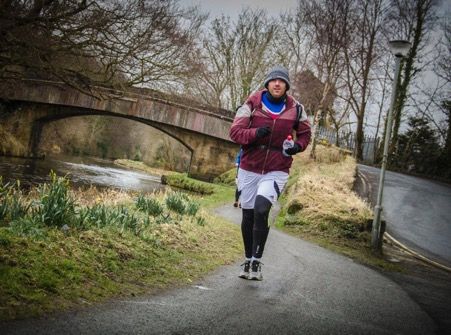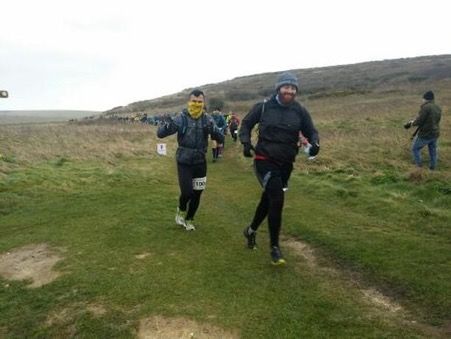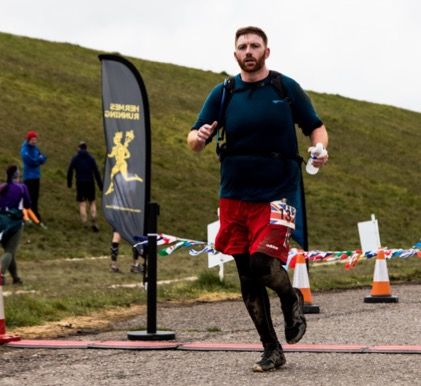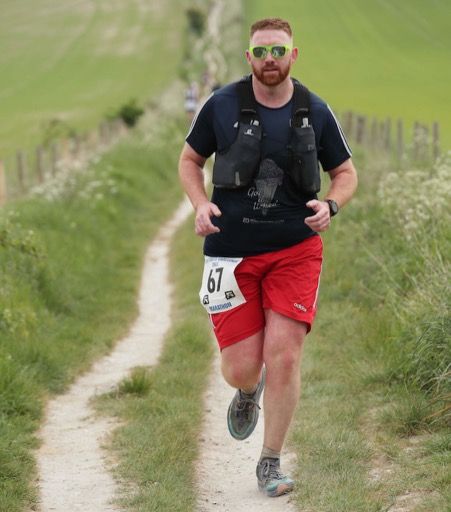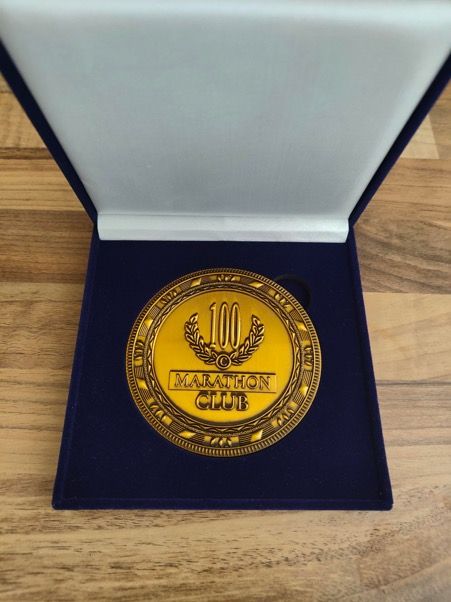 Looking After Yourself Coach Ian talks about...correct pacing and how to achieve the right balance in your endurance training
A regular question from many of you is what pace should I be training at to get the most from it? What level of intensity is right to maximise the physiological gains from training, let's face it we all want those, while we minimise the risks of over-reaching, plateauing, or even worse, injuring ourselves.
Getting our paces and running workload right is not an easy thing to manage. Sometimes we all fall into the trap of running too much of our mileage at too fast a pace (I know I do!), or we run too fast a pace on our short speed intervals (I know I do!). Some of us also get the balance between steady and high intensity running askew (yep, me!).
Whatever distances we may compete at, we all need to build a strong endurance base to work from and that base comes from a significant percentage of our running mileage being done at a steady 'conversational' pace.
I'd like you to read the summary of the linked article from Jarle Wermskog, a Danish endurance athlete (Ironman, Triathlete, 2:24 marathoner). The article is being used by England Athletics to summarise all that is good in endurance training advice at present. The article is based on the author's work with cross-country skiers but is applicable for all endurance-based sports. It is also aimed at elite runners but the principles and frameworks he lays out are applicable across all levels of endurance sports.
If you like what Jarne says about running 90% of your training time at LOW intensity then you may want to dip into some of the other sections that he covers.
Initial take-aways for me are:
You have to work out, by trial and error, what YOUR correct training intensity is. "You don't get better by following someone else's optimal training plan."
It's a good idea to use some kind of rough model of intensity zones to help you gauge your effort correctly, say a 3 or 4 paced model that uses breathing or ability to hold a conversation as a guide to effort.
Long easy runs/comfortable threshold runs/short sharp intervals/race pace will all form part of a balanced plan and the bulk of it (c.80%) will be at easy pace.
If you get a balance of intensity in your training you can achieve a larger training volume over an extended number of seasons – this is good news!
We will look at other sections of the article over the winter season but for now have a read of the summary and any sections that interest you. It would be good to chat about them when we get a few minutes.
Happy Running,
Coach Ian
From the archives... explore the back issues of the Highwayman
Keep up to date across our social media channels
There are many ways to keep in contact with the club.
We are represented across social media on Twitter, Facebook and Instagram and there is also a Strava Haywards Heath Harriers Group that is a great way to get inspiration and show your support for your fellow team mates.
Our other channels include email and various dedicated club Whatsapp groups.
Interested in joining our social media team?
Our very own page dedicated to Haywards Heath Harriers. Reports, news and community. Give us a page like!
Bringing real time race reporting and club action. Tag us with #haywardsheathharriers #beetrootarmy
If pics are more your thing, check out the club feed. Tag us with #haywardsheathharriers #beetrootarmy
Follow and lavish kudos on your club mates with our very own Haywards Heath Harriers Strava Group.
Following the closure of Kudos, our previous kit provider, we have now found a new supplier, Zeon, who can manufacture our bespoke kit on the same basis, eg: offering a pop-up online shop where members can order items individually, which are them shipped as one delivery to Haywards Heath and can then be distributed at Tuesday training or collected when convenient. This means there are no post and packaging costs.
The kit window is now CLOSED!
PLEASE NOTE - We need a minimum order of each garment type for the order to be fulfilled - if this is not reached, money will be refunded to the original payment method.
Any queries Mags Lazell (HHH) or Andy Burgin at Zeon ([email protected])