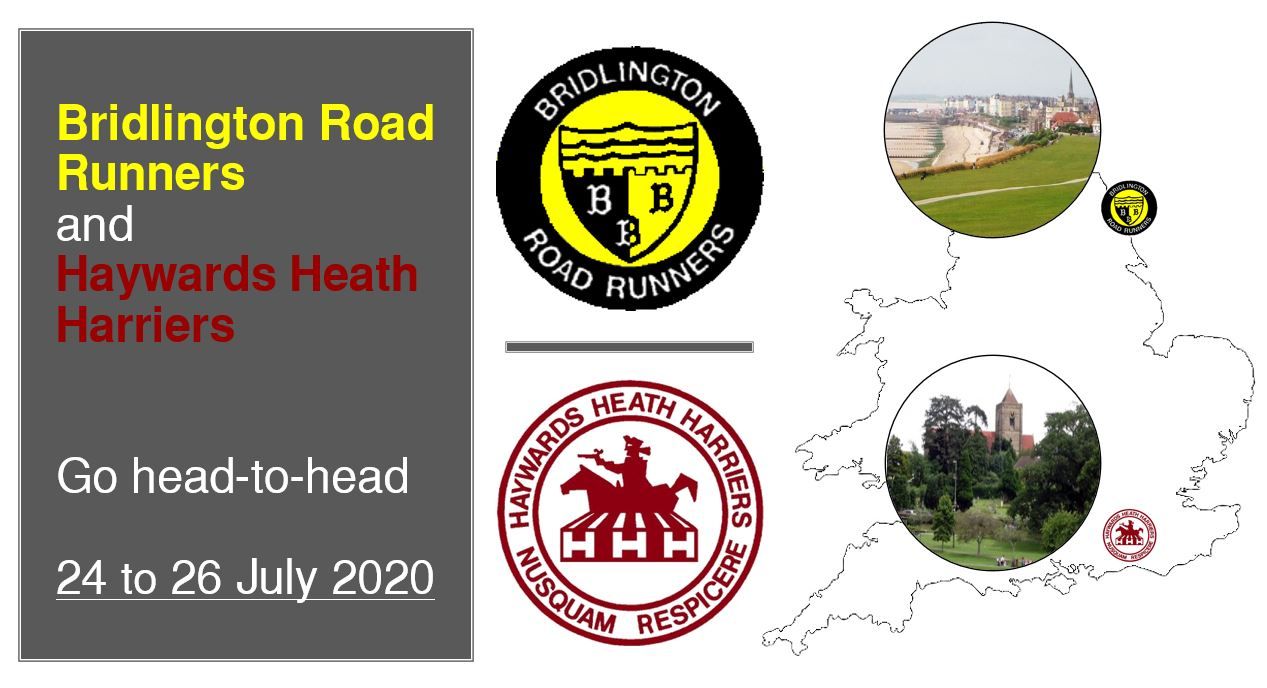 Who knew that you could upload activities from your Garmin watch manually via Strava? You learn something new everyday! Details here: https://support.strava.com/hc/en-us/articles/360046805811
Results from the BRR vs HHH are available on this page.
____________
We have all runners photos - hurrah! The link below has been updated.
____________
A question that's been asked is "can I give each event more than one-attempt?". Answer: yes. Given we allow the 5k VR to be run mulitple times, we will allow the same for the mile - so please send in your best times only.
____________
The head-to-heads have been decided, and details are provided below....
Each team has 34 runners taking part in the age grade handicapping head-to-heads (thanks for all agreeing to take part!). This comprises 14 women and 20 men from BRR and 10 women and 24 men from HHH, meaning four of the match-ups are mixed (4, 9, 10 and 14) .
Please see this document (updated 24/07 11:25) for information on race competitors. It appears that many Bridlington Runners are either too afraid to show their faces, or are busy deciding what their race day shoe should be... we will update the information as more details of BRR counterparts becomes available.
1: Tom Mullen vs Russ Mullen
2: Mollie Holehouse vs Lydia Levy
3: Sam Adams vs Hannah Gibson
4: Nicola Fowler vs Mark Green
5: Miriam Ireland vs Sarah King
6: Kerry Whitehead vs Carys Hind
7: Emma Artley vs Kim Lo
8: Heidi Baker vs Gemma Morgan
9: Cathy Wood vs Josh Franks
10: Dom Webster vs James Moffat
11: Jenny Chambers vs Siobhan Amer
12: Justine Sutcliffe vs Shelagh Robinson
13: April Exley (stepping in for Caroline MacFarlane - get well soon) vs Lins Blain
14: Elizabeth Ingle vs Tim Hicks
15: Patricia Bielby vs Marion Hemsworth
16: Josh Taylor vs James Collins
17: Ben Edwards vs James Smyth
18: Scott Hargreaves vs Ben Gibson
19: Adam Dyas vs Phil Payne
20: Sam Alexander vs Matt King
21: Glenn Walker vs Greg Hilton
22: James Briggs vs Jamie Gibson
23: Adam Thomas vs Pete Francis
24: Jof Pearson vs Sim Wishlade
25: Nick Craggs vs Ben Duncan
26: Nick Jordan vs Andy Hind
27: John Nolan vs Chris Faulkner
28: Alan Feldberg vs Simon Robinson
29: Allan MacFarlane vs Julian Boyer
30: Martin Hutchinson vs Tim Miller
31: Graham Lonsdale vs Ian Dumbrell
32: Stephen Eblet vs Paul Cousins
33: Martin McPheat vs Mark Sykes
34: Bob Eyre vs Richard Bates
ORIGINAL EVENT DETAILS BELOW
When?
24 July (6am) to 26 July (6pm)
What?
Racing again on the virtual 5k courses in Burgess Hill, Haywards Heath and Lindfield
Head-to-head competition with Bridlington Road Runners (BRR). Who are BRR?... The club that former Harrier Tom Mullen now runs for.
Please let us know if you would like to take part in the head-to-head by the end of Sunday 19th July. Details of how below.
What do I have to do for the HHH virtual 5km?
We will be using the Strava segment leaderboards again. Details of the general VR/Strava approach can be found here. Links below take you through to details of each of the 5k courses:
Haywards Heath Harriers vs Bridlington Road Runners
Club-based and head-to-head parts of the competition will each be worth 50% of the points available, so every time counts! This is optional, but we hope you will get involved.
Club-based component
The average age grading from all HHH VR 5km activities will be compared with BRR's and points awarded accordingly. What do you need to do? Just run either of the 5km VR routes and we will do the rest!
Head-to-head component
You will compete in two events: 1-mile and 5km.
Each participant will be paired against a Bridlington runner of similar pace, and times will be adjusted according to age grading differences so there is an equal chance of winning the match-up.
The scoring: If a runner wins both events they will gain a point for the club, if each win an event, the point will be halved. For those of you familiar with Ryder and Solheim Cups in golf, you will see a similarity...
What do you need to do? Please let us know if you want to take part in the head-to-head by sending an email to Ben Gibson ([email protected]) containing the information below (please send this by the end of Sunday 19th July):
Your 5km and 10km PB over the last three years 2018-2020 (include VR races if your PB has been in these) - this will be used for handicapping
A picture of you running (if you are not happy with a picture of you being posted, please just answer the questions)
Answers to these questions: 1) Favourite race distance, 2) Favourite post-run snack, 3) Race day shoe, 4) Pre-race song, 5) Favourite post-run stretch
These will be added to a 'head-to-head' runner sheet, which will be posted on the HHH website. This will help us get to know who we're competing against!
There will not be a fixed 1-mile route, so it will be up to you to find a safe route to run (4 laps of Whitemans Green track + 10 metres might be a good option...) and you will need to email or message Ben with your 1-mile time (link to Strava/image of watch if preferred) - no silly downhill ski-slope type runs please - the race adjudicators will use their discretion at adjusting times for gamesmanship!
5km race time will be taken from the Strava VR segments.
We will share more details on the Haywards Heath website when head-to-head match-ups have been determined.
Stop Press: The first head-to-head has been decided. It's a Battle of the Mullen's...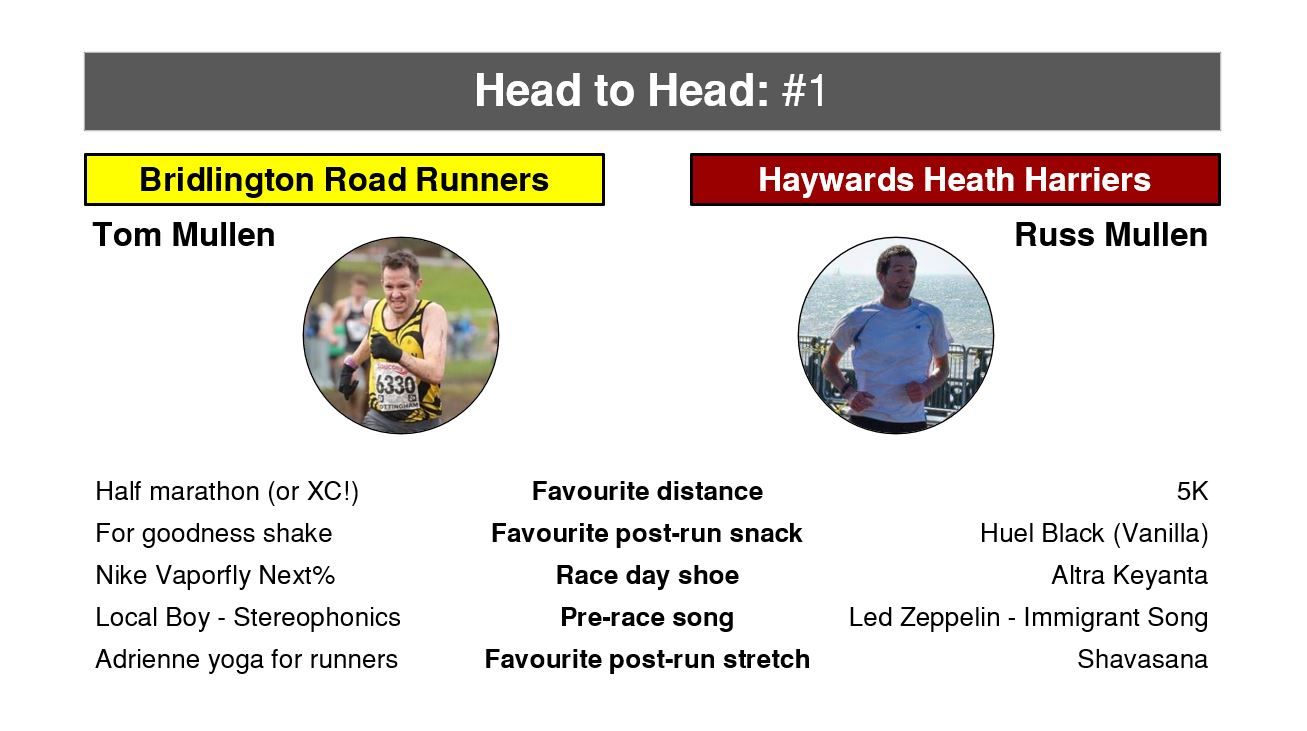 Thanks for reading, and if you have any questions, please message Ben Gibson.
HHH Virtual Races Team